The Windows 8 Mail app is where you can manage and view your email messages. Learn more about using the app in this free lesson.
Organizing your mail
After you've used the Mail app for a while, your inbox can start to become cluttered with old messages. You can keep your inbox organized by moving messages to folders or deleting messages you no longer need.
To move a message to a folder:
Locate and select the message you wish to move.




Selecting a message to move

Right-click and then select the Move button from the menu at the bottom of the screen.




Clicking the Move button

Select the desired folder for the message.




Choosing the desired folder

The message will be moved to the selected folder.




The message moved to the selected folder
To delete a message:
There are two ways to delete a message. You can either:
Click the Delete button when viewing any email.




Clicking the Delete button

Select the desired message(s) and then press the Delete key on your keyboard.
To delete messages permanently, you'll need to access the Deleted folder and then delete the messages again.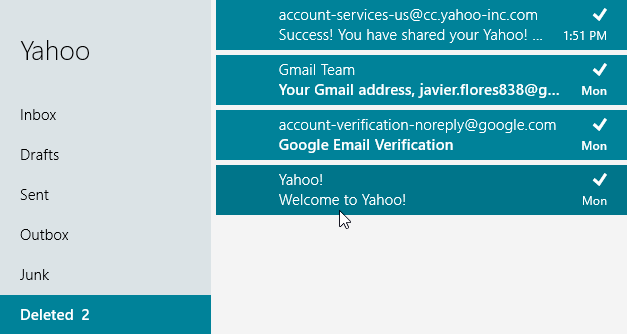 Deleting messages permanently