Adding Shortcuts
Learn how to use the Windows 98 shortcuts feature to find files and programs more easily in this free lesson.
Adding a shortcut
In this lesson, you will learn three ways to create a shortcut. Choose the one that works best for you.
To add a shortcut to the desktop using Windows Explorer:
In the right pane of Windows Explorer, click the file, program, or folder for which you want to make a shortcut. The item darkens when you select it.
Choose FileCreate Shortcut.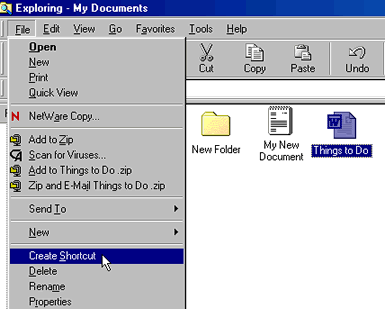 Hover the mouse pointer over the shortcut icon, hold down the left mouse button, and drag the shortcut onto desktop (in the left pane).
The word Desktop will darken when you drag the icon over it.
Release the left mouse button, and a shortcut is moved to the desktop.