When working in Windows 98 moving windows is simple. Also when working in Windows 98 resizing windows is easy. Learn how here.
Moving and sizing windows
Sometimes your desktop may get crowded, and you may want to move a window or change its size. Sizing a window is different from minimizing, restoring, or maximizing.

Important: You cannot size a window if it is maximized.
To change the size of the window:
Hover the mouse pointer over any corner of the window.
The mouse pointer will change into a two-headed arrow. (You can also place the pointer over the borders of the window).
Hold down the left mouse button, and move the arrow out or in to make the window larger or smaller.
Release the mouse button when the window is the size you want.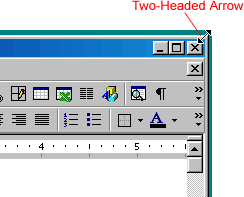 Make sure the mouse pointer changes into a two-headed arrow before you try to size the window.