Learn all about the Windows 98 settings available to you in this free lesson.
Setting the time and date
Windows 98 allows you to set the time and date on your computer. It also lets you set the computer to automatically adjust your clock for daylight saving changes.
To set the time and date:
Click Start.
Choose SettingsControl Panel.
Double-click the Date/Time.
The Date/Time Properties dialog box appears with various options.
Click the correct month, year, date, and time on the Date/Time tab.
Click the Time Zone tab, then choose the correct time zone.
Choose OK.
Choose FileClose.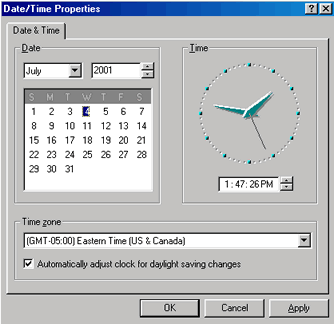 Quick Tip: To set the time, double-click the time displayed on the taskbar at the bottom-right corner of the computer screen. When the dialog box appears, set the time and choose the correct month, date, and other options. Click OK.