Customizing Windows XP Using the Control Panel
Learn how to use the Windows XP control panel for customizing Windows XP in this free lesson.
Changing the wallpaper
Wallpaper is the background image that appears on your desktop. Windows XP offers many wallpaper choices.
To change the wallpaper:
Open the Control Panel (located in Start menu).
Under Pick a Category, click Appearance and Themes.
Under Pick a Task, click Change the desktop background.
The Display Properties dialog box opens with the Desktop tab selected.
In the Background box, click or use the arrow keys to view the choices.
Use the drop-down boxes to alter the wallpaper position or color.
Click OK to close the dialog box.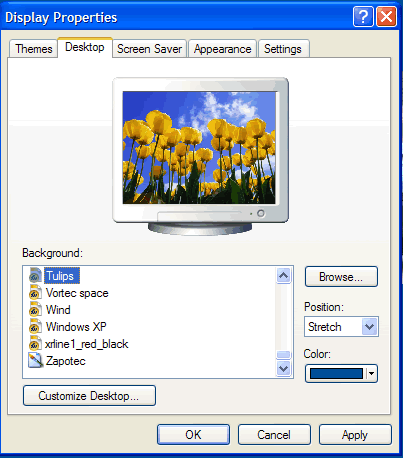 Advanced users:
Click Browse... to choose a picture from the My Pictures folder (or to navigate to a picture located in another folder).
Click the Customize Desktop button to alter your desktop icons or display a webpage on your desktop.