Learn how to use the Windows XP Accessibility Wizard in this free lesson.
The Narrator
The Narrator can read items on the screen to you. However, the Narrator works only in English and may not work with every program installed on your computer. Your computer will also need to be equipped with a sound card and speakers in order for the narrator to function properly.
To open the Narrator using the Start menu:
Choose StartAll ProgramsAccessoriesAccessibilityNarrator.
Whether you open the Narrator using the Accessibility Wizard or the Start menu, the Narrator window opens.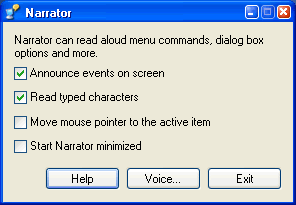 Here, you can:
Announce events on screen. Narrator announces new windows that appear or system messages.
Read typed characters. Narrator reads typed characters aloud.
Move your mouse pointer to the active item. Narrator moves your mouse pointer to the active window item for you.
Start Narrator minimized. Narrator starts as a minimized option.