Spell and Grammar Check
Using spell check in Word can prevent errors from appearing. Use the Word spell check function to produce error-free Word documents.
Checking spelling as you type
Word puts a red wavy line under possible spelling mistakes.

To check spelling as you type: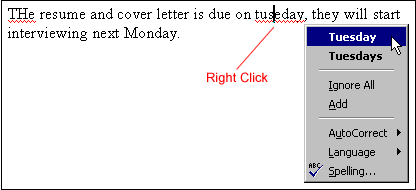 Hover your I-beam over the misspelled word and right-click.
A shortcut menu displays the following options: boldfaced suggested spellings, Ignore All, Add, or Spelling.

Select the boldfaced suggestion to replace the incorrectly spelled word in the document.
Select Ignore All, and Word bypasses all future instances of this spelling in the document.
Select Add, and Word adds the underlined word to the dictionary so it won't be flagged as an error in any other document you create.

If you select spelling, the Spelling and Grammar dialog box appears.