Using Templates
Templates for Microsoft Word let you create documents quickly. Use Word templates to also ensure a consistent design throughout.
To access style templates using the New dialog box: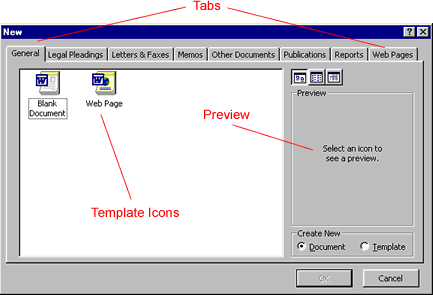 Choose FileNew, or click on the New document icon on the Standard toolbar.
The New document dialog box appears.
There are several tabs to choose from, including:

General
Legal Pleadings
Letters and Faxes
Memos
Other Documents
Publications
Reports
Web Pages

Click through the tabs and click each icon to preview style templates.
If you see this message in the preview pane, Click OK to install a new template and create a new style, you need your Office 2000 CD to install that particular template.