Using the Paragraph Dialog Box
Learn how to use the Word 2000 paragraph dialog box in this free lesson.
To specify line spacing in a document:
Select the text you want to format.
Choose FormatParagraph from the menu bar.
The Paragraph dialog box appears.
Click the Indents and Spacing tab.
In the Line spacing drop-down menu, select single, 1.5, or double spacing. The default is single spacing.
Click OK.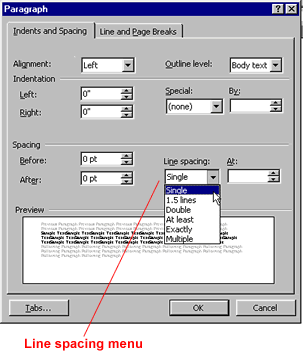 When you make a line spacing change, it affects only the text in a paragraph that contains the insertion point.
Line spacing can also be applied to selected text and therefore can include as many paragraphs as you want.
Click the Tabs button in the lower-left of the Paragraph dialog box to access the Tabs dialog box.