Edit Tables
In Word tables can help organize content in different ways. Learn all about editing tables in Word in this free lesson.
Adding borders
Many of the tables in the AutoFormat dialog box use unique borders and shading options. To add these special features to your own table, you can use the Tables and Borders toolbar.
To change line style or line weight on an existing table:
Click the drop-down arrows (next to the buttons) to view and select from the list of choices.
The mouse pointer turns into a pencil .
Trace the line(s) you want to change.
Click anywhere outside the table to change to pencil back into the I-beam.
To change the border color on an existing table:
Click the drop-down arrow next to the Border Color button. A color menu appears.
Select a color. The I-beam becomes the pencil.
Using the pencil, trace the border(s) you want to color.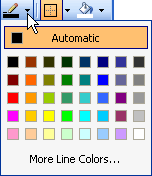 To apply a border:
Select the line style, line weight, and border color you would like.
Select the cells you want bordered.
Click the Outside Border button drop-down menu, and choose the location of your border.