Learn how to use the AutoCorrect Word feature, as well as the Find and Replace Word feature, in this free lesson.
To modify AutoCorrect:
Click Tools.
Select AutoCorrect Options from the menu bar. The AutoCorrect Options dialog box appears.
Check or deselect any of the following options:

Show AutoCorrect Options buttons
Correct two initial capitals
Capitalize the first letter of the sentence
Capitalize the first letter of table cells
Capitalize names of days
Correct accidental usage of Caps Lock key
Replace text as you type
Use the Replace: box to type a word you frequently misspell, or type a shorthand word to represent a longer word or phrase, such as GCFLearnFree.org.
Use the With: box to type the correct word.
Click Add.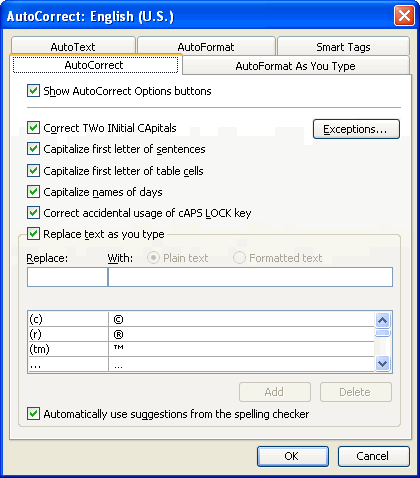 If you type a misspelled word into AutoCorrect's With: box, AutoCorrect always misspells that word.
If AutoCorrect changes a word you don't want it to change, you can hover the pointer over the area where the correction was made and a Smart Tag will appear that allows you to reset the original word. Click the Smart Tag, and a drop-down list with options to reverse the action is displayed.