Using spell check in Word can prevent errors from appearing. Use the Word spell check function to produce error-free Word documents.
To change the automatic spelling and grammar check settings:
Click the File tab to go to Backstage view, then click Options.




Clicking Options

A dialog box will appear. On the left side of the dialog box, select Proofing. The dialog box gives you several options to choose from:

If you don't want Word to automatically check spelling, uncheck Check spelling as you type.
If you don't want grammar errors to be marked, uncheck Mark grammar errors as you type.
If you don't want Word to check for contextual errors, uncheck Frequently confused words.

Changing the proofing options
By default, Word does not check for sentence fragments (incomplete sentences) and run-on sentences. To turn on this feature, click Settings in the dialog box, then check the box next to Fragments and Run-ons.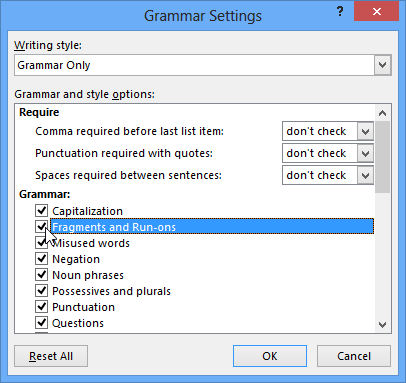 Checking for fragments and run-on sentences
If you've turned off the automatic spelling and/or grammar checks, you can still run a check by going to the Review tab and clicking the Spelling & Grammar button.