Using spell check in Word can prevent errors from appearing. Use the Word spell check function to produce error-free Word documents.
To hide spelling and grammar errors in a document:
If you're sharing a document like a resume with someone, you might not want that person to see the red and blue lines. Turning off the automatic spelling and grammar checks only applies to your computer, so the lines may still show up when someone else views your document. Fortunately, Word allows you to hide spelling and grammar errors so the lines will not show up on any computer.
Click the File tab to go to Backstage view, then click Options.

Clicking Options

A dialog box will appear. On the left side of the dialog box, select Proofing.
Check the box next to Hide spelling errors in this document only and Hide grammar errors in this document only, then click OK.




Hiding spelling and grammar errors

The lines in the document will be hidden.
If you have more than one document open, click the drop-down box next to Exceptions for: and select the desired document.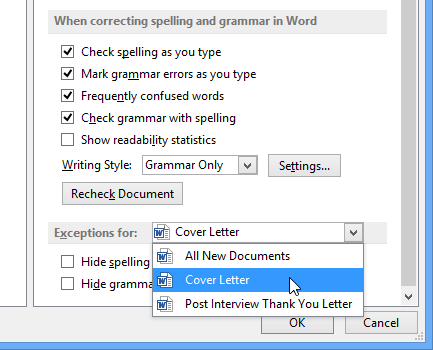 Creating exceptions for a document