Get Microsoft Office help using the Ribbon, Quick Access Toolbar, and Backstage view to produce documents in MS Word 2013.
Document views
Word 2013 has a variety of viewing options that change how your document is displayed. You can choose to view your document in Read Mode, Print Layout, or Web Layout. These views can be useful for various tasks, especially if you're planning to print the document.
To change document views, locate and select the desired document view command in the bottom-right corner of the Word window.




Document view options
Click the arrows in the slideshow below to review the different document view options.
Read Mode: In this view, all of the editing commands are hidden so your document fills the screen. Arrows appear on the left and right side of the screen so you can toggle through the pages of your document.

Print Mode: This is the default view, where you create and edit your document. There are page breaks in between each page, indicating how your document will look when printed.

Web Layout: This view removes page breaks. It can help you visualize how your document will display as a webpage.
If your document has many pages, Word 2013 has a handy new feature called Resume Reading that allows you to open your document to the last page you were viewing. When opening a saved document, look for the bookmark icon to appear on the screen. Hover the mouse over the bookmark, and Word will ask if you want to pick up where you left off.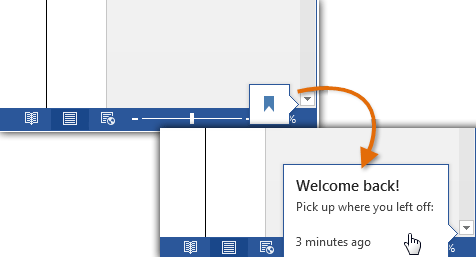 Resume Reading