Using tables in Word can help organize content in different ways. When using Word tables can be used for text and numerical data.
Modifying tables
It's easy to modify the look and feel of any table after adding it to a document. Word includes different options for customizing a table, including adding rows or columns and changing the table style.
To add a row or column:
Hover the mouse near the location where you want to add a row or column, then click the plus sign that appears.




Clicking the plus sign

A new row or column will appear in the table.




The new row
Alternatively, you can right-click the table, then hover the mouse over Insert to see various row and column options.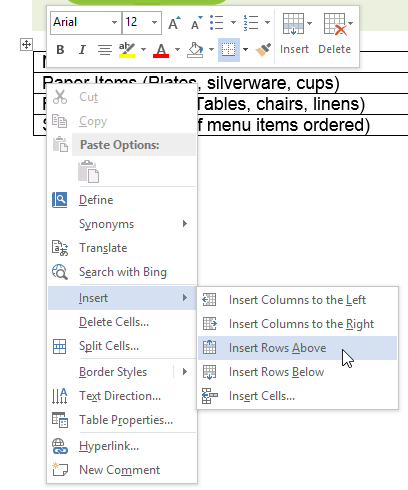 Adding a row
To delete a row or column:
Place the insertion point in the row or column you want to delete.
Right-click the mouse, then select Delete Cells... from the menu that appears.




Selecting Delete Cells

A dialog box will appear. Select Delete entire row or Delete entire column, then click OK.




Deleting a column

The column or row will be deleted.