When using Word track changes and comments when collaborating on Word documents. Track changes in Word to ensure error-free files.
Comments
Sometimes you may want to add a comment to provide feedback instead of editing a document. While it's often used in combination with Track Changes, you don't necessarily need to have Track Changes turned on to use comments.
To add comments:
Highlight some text, or place the insertion point where you want the comment to appear.

Selecting text

From the Review tab, click the New Comment command.

Clicking the New Comment command

Type your comment. When you're done, you can close the comment box by pressing the Esc key or by clicking anywhere outside the comment box.

Adding a comment
You can also respond to an existing comment. Just click the Reply button and type your response.

Replying to a comment
To delete comments:
Select the comment you want to delete.

Selecting a comment to delete

From the Review tab, click the Delete command.

Clicking the Delete command

The comment will be deleted.

After deleting the comment
To delete all comments, click the Delete drop-down arrow and select Delete All Comments in Document.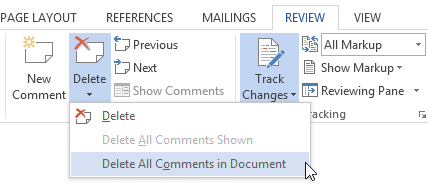 Deleting all comments