Applying styles in Word is useful when you want Word documents to have a more professional look. Modifying Word styles is also possible.
To modify a style:
Locate and right-click the style you want to change in the Styles group, then select Modify from the drop-down menu.

A dialog box will appear. Make the desired formatting changes, such as font style, size, and color. If you want, you can also change the name of the style. Click OK to save your changes.

The style will be modified.
When you modify a style, you're changing every instance of that style in the document. In the example below, we've modified the Normal style to use a larger font size. Because both paragraphs use the Normal style, they've been updated automatically to use the new size.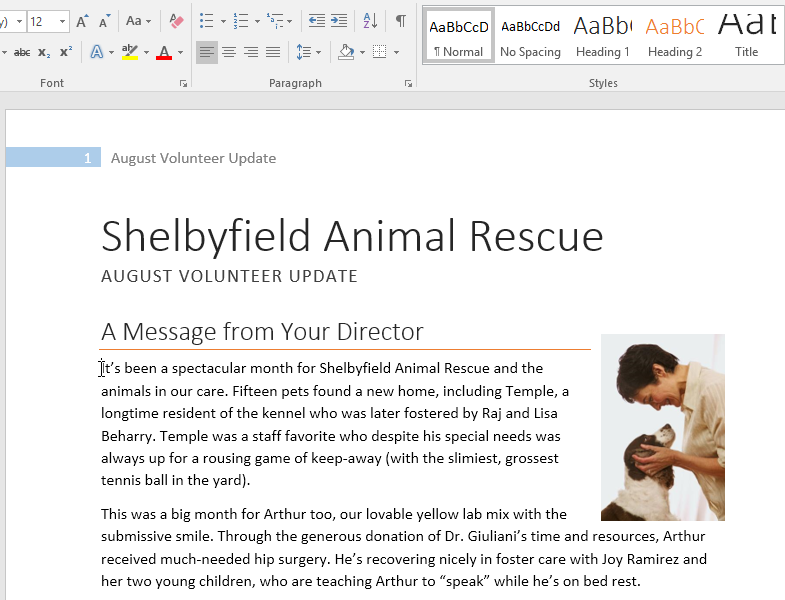 To create a new style:
Click the arrow in the bottom-right corner of the Styles group.

The Styles task pane will appear. Select the New Style button at the bottom of the task pane.

A dialog box will appear. Enter a name for the style, choose the desired text formatting, then click OK.

The new style will be applied to the currently selected text. It will also appear in the Styles group.
You can also use styles to create a table of contents for your document. To learn how, review our article on How to Create a Table of Contents in Microsoft Word.