Spell and Grammar Check
Using spell check in Word can prevent errors from appearing. Use the Word XP spell check function to produce error-free Word documents.
The Spelling and Grammar dialog box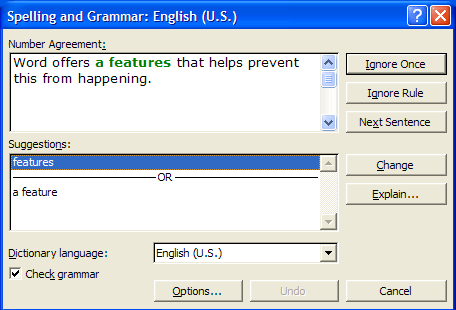 To use the Spelling and Grammar dialog box:
Choose one of the following options, depending on what you think of Word's suggestions:

Click Ignore Once to ignore this one instance of the grammatical error in your document.
Click Ignore Rule to ignore this grammatical error and all other grammatical errors of this type in the document.
Click Next Sentence to take you to the next grammatical error listed in your document.
Click Change to replace the error with what is in the Suggestion box.
Click Explain to open the Office Assistant, which will offer you reasons for this error.
If the red and green wavy lines distract you, you can turn them off:
Choose Tools Options from the menu bar. The Options dialog box appears.
Click the Spelling and Grammar tab.
Uncheck Check Spelling as You Type or Check Grammar as You Type so the check box is empty.
Click OK.

Don't forget to use the spelling and grammar check!