In Word objects are used to help make your document standout. Learn all about using and formatting objects in Word in this lesson.
WordArt drawing objects
Also included on the Drawing toolbar is the WordArt feature. Using WordArt, you can create text graphics that bend, slant, and appear metallic or wooden and much more. WordArt can even be shadowed, skewed, rotated, and stretched.

Here are just a few examples of what WordArt allows you to do:

To insert WordArt:
Place the insertion point where you want to insert WordArt.
Click the WordArt button on the Drawing toolbar . The WordArt gallery opens.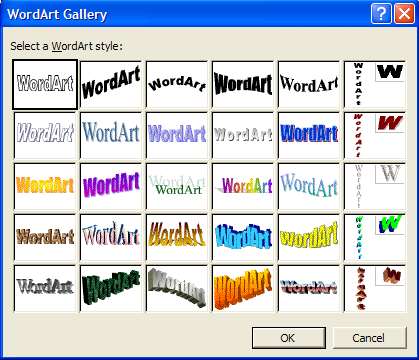 Choose a WordArt style.
The Edit WordArt Text dialog box appears.
Edit the font, size, and style.
Click OK.