Understanding your paycheck can take some time. Use this free lesson to better understand your pay and work benefits.
What is direct deposit?
Some employers offer their employees the added benefit of direct deposit. Direct deposit allows employees to deposit their paychecks into their checking or savings accounts. Aside from being convenient—i.e., less trips to the bank—paychecks are often deposited into personal accounts hours earlier than regular checks.
If you choose to accept the option of direct deposit, you will provide your employer with the name of your bank, your bank account number, a voided check, and some other personal information.
After direct deposit takes effect, you'll receive a paper check stub and a direct deposit advice slip in place of an actual check. Direct deposit advice slips somewhat resemble real checks but have the words "THIS IS NOT A REAL CHECK" and "NON-NEGOTIABLE" printed on them.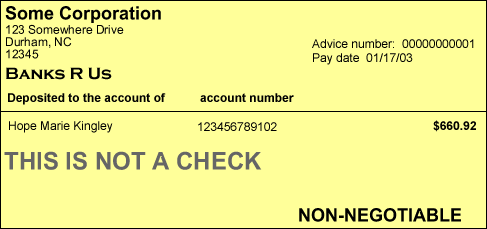 Please note the deposit date on your direct deposit advice slip. This is the bank business date your money will be deposited to your account. Banks add direct deposits at different times based on their procedures.