Workplace Safety
Use these workplace safety tips and you'll be on your way toward improving safety in the workplace.
Basic safety tips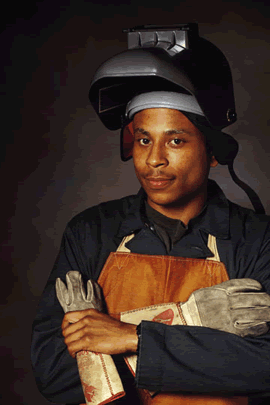 While safety rules vary according the organization and specific job, there are several basic things you can do to remain safe in the workplace. Many accidents are due to careless behavior that might have been easily prevented.
When going from place to place, avoid running, and be careful when going through doors. Moving in a controlled fashion decreases the chance of accidents. Never run, jump, or engage in horseplay.
Keep your work area clean. Unattended open drawers, wastebaskets, papers, litter, garbage, boxes, and other debris increase the chances of slips, trips, and falls.
Don't touch or use any equipment you have not been trained on or given permission to use. If you are asked to use machinery, make sure you understand how to use it, the hazards of using it, and what protective clothing you need in order to use it safely. Be aware that loose-fitting gloves, long hair, clothing, and jewelry can get caught in machinery.
If you are asked to use a product that might be hazardous, make sure you know about the hazards and how to protect yourself. Even common cleaning products can contain chemicals that could be hazardous if used improperly.
Smoke in designated areas only. Thoroughly extinguish all tobacco products when finished.
Be aware of flammable materials that can catch on fire, including solvents such as oil, gas, and paint thinner.
Stay away from contact with bodily fluids, such as blood, saliva, and urine. If you are required to clean up bodily fluids, take universal precautions. If you have not been instructed on universal precautions, ask for training.
If your job requires you to lift things, lift with your legs (get instruction from your supervisor if needed). If something is too heavy, ask for help.
Be careful when lifting or stacking items above your head. If you must use a ladder, make sure it's stable and equipped with nonslip treads. Never use a chair as a substitute for a ladder.
Know what to do during an emergency. Pay attention during emergency drills so you know the routes to take when leaving an assigned area to go to a safe place.
Observe all cautionary signs in the workplace.
If you believe that a job task is unsafe or that something in the environment is unsafe—or if you have any questions about safety—talk to your supervisor immediately.